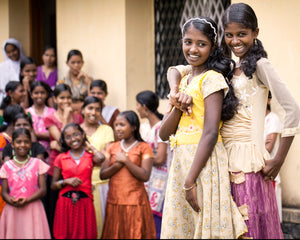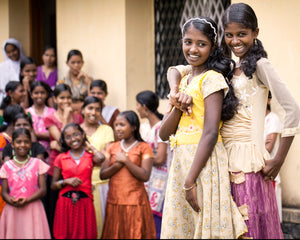 And what does "made honourably" even mean?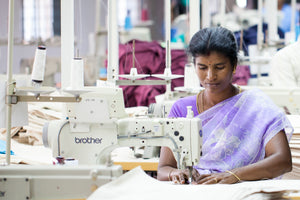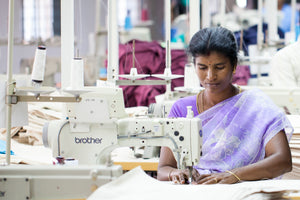 From barely-surviving...to THRIVING
Let's start at the beginning...
A few years ago, we travelled to India and learned the true stories of families living in extreme poverty.

We stood in the sweltering heat, hearing, for the first time, the desperate choices facing parents; the unthinkable dangers facing their children.

We couldn't help but imagine; what if WE were the parents facing those choices? What if it were OUR daughters whose freedom was at risk?

Our family started Author Clothing with the dream to create honourable, LIVING-WAGE JOBS, a plot twist able to transform potential horror stories into ones of redemption and brighter futures. 
"MADE HONOURABLY"
Living wage jobs ensure each person who makes our clothes can afford the basic necessities for survival: food, shelter, medical care and education for their kids.
But, much more than just a reasonable paycheck, honourable jobs provide the necessities for human flourishing - the gifts of dignity, purpose, community and hope for a brighter future.
We partner with certified fair trade manufacturers who are in business to do good. It's a whole different way of doing fashion: people aren't exploited for the sake of profit; profits are used to empower people.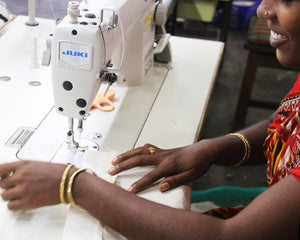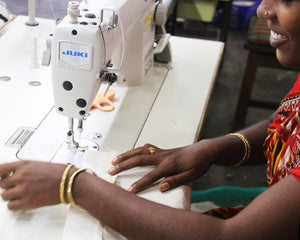 LIVING wages vs. legal wages
THE NOT-SO-PRETTY SIDE OF FASHION
THE NOT-SO-PRETTY SIDE OF FASHION
The living wage jobs created by our certified fair trade partners provide a vivid contrast to garment industry norms, especially those in developing nations where "legal wages" can be less than half - and as little as 1/5 the cost of living. 
Shocked? No worries, you're not alone. But, you do deserve to know the truth behind how your clothes are made; where your hard-earned money may be going.
We recommend watching  The True Cost, reading Where Am I Wearing?, or visiting Slave to Fashion for a look at the true and, heads up...disturbing, realities behind most of the clothing being sold in stores today. 
JOIN THE MOVEMENT
As you learn more, don't lose hope. Don't think for a second your choices can't make a difference!
You can be part of the growing movement of generous consumers who are committing to "Less, but better" and supporting brands (like ours) who are using fashion as a force for good...and having a lot of fun doing it